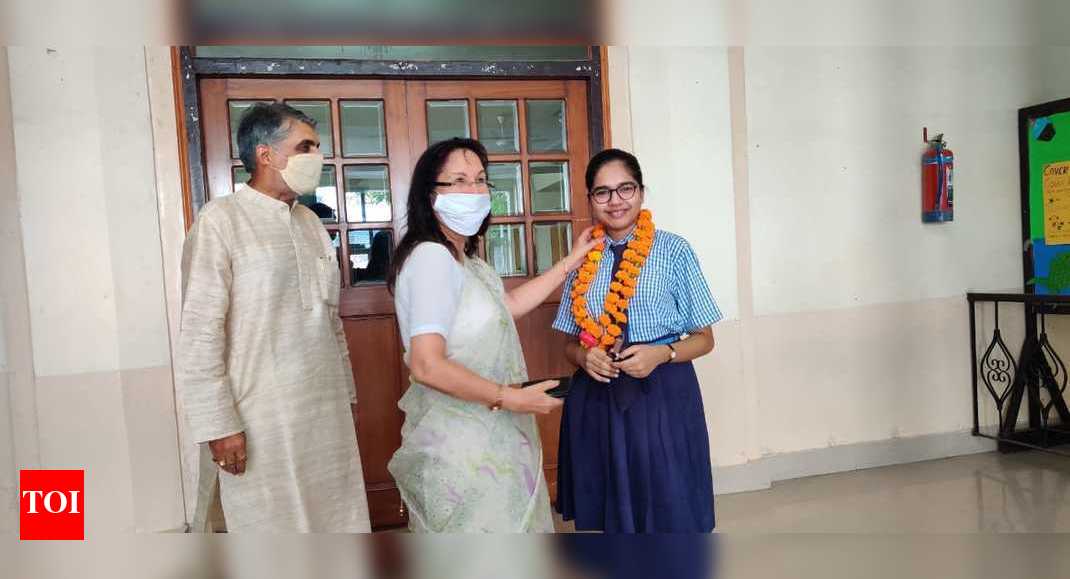 Lucknow: After many failed attempts to check her results on the website, Divyanshi Jain, like other students became restless. It was then a phone call, from her school, which made her jumped out of joy with tears rolling down her cheeks. The good news was Divyanshi getting 100% —600 marks out of 600 — in the class XII CBSE examinations, results of which were announced on Monday.
A humanities stream student at Navyug Radiance Senior Secondary School, 18-year-old Divyanshi scored a centum in all six subjects — English, Sanskrit, Geography, Insurance, Economics and History. "I am shocked but elated. The results are unbelievable. I had thought of being a topper but 100% marks are surprising," said Divyanshi, who took examinations for all subjects except Geography, which was cancelled due to Covid-19 pandemic.
Thinking it was a prank call, Divyanshi first didn't took her results seriously. "It took her a lot of time to accept her results. But we are extremely happy for her," said Shreyanshi, Divyanshi's elder sister.
Divyanshi's advise to her juniors, "Never run behind marks. Instead, follow your passion and marks automatically will follow you."
Younger daughter of businessman father Rajesh Prakash Jain and homemaker mother Seema Jain, Divyanshi wants to pursue a career in archaeology. A history buff, Divyanshi has applied for admissions in BA Hons in History at Delhi University.
Overwhelmed at Divyanshi's results, her school principal B Singh said, "We were expecting her to top but scoring 100% was too much of a wonder. She is a hard working child with a thirst for knowledge. Curious about little things, she wants to research in history. In class X, she scored 10 CGPA."