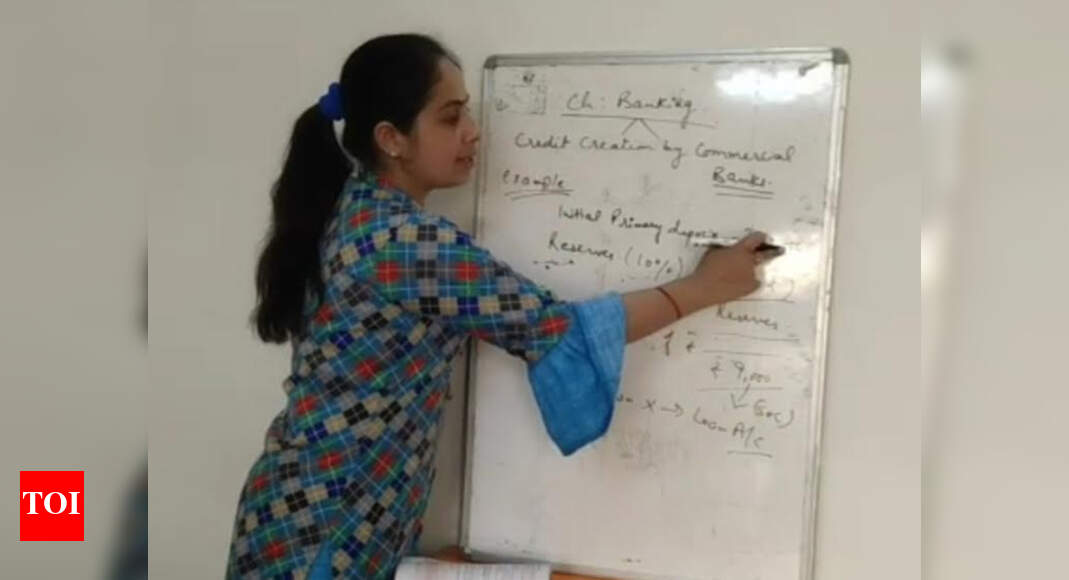 AMBALA: To keep the students busy during the lockdown period due to Covid-19, the PKR Jain Vatika Senior Secondary School in Ambala City has recently started online teaching classes with video lectures by its teachers, which are being sent to around 500 students via WhatsApp.
These lectures are being sent to the school students, who are promoted from Class IX to X, and those from Class XI to XII, this session of 2020-21.
School principal Uma Sharma told, in this emergency situations in the country, it is important to keep the students busy with their studies to divert their minds.
"Our school has around 500 students in Class X and XII and this initiative has been taken to ensure that the students are attached to their studies and are in regular touch with their teachers. This will save their important time and as we are sending them assignments the students are also busy doing the same", told PKR Jain Vatika School principal Uma.
"We have started using the most affordable medium of teaching through WhatsApp by sending lecture videos to the students of Class X and XII. Our school teachers are recording videos with dedication and preparing assignments for the students. These videos and assignments are being sent and received through WhatsApp. If any students have a query or doubt, they are free to call their respective teachers to clear the same at the given slots and the teachers have been instructed accordingly", told principal Uma.
More on Covid-19
Ananya Gupta a commerce stream Class XII student of this school told, "We are really happy with the efforts being made by our school and teachers and they are giving us complete time while we are at home and all our doubts are being cleared."
Another non-medical student of Class XII, Hemanya said, "Due to lockdown, our studies were in a compromising situation but thanks to our school teachers who are providing study material and video lectures through WhatsApp. They are also giving us time and clearing our doubts during the allotted slots and we are getting all the support."
The principal said, "There are other options and technologies available in the market for e-teaching purposes, but these are expensive and not every parent can afford the same. Therefore, we decided to teach through WhatsApp which is the most affordable technology."
On the other side, in government schools due to lockdown in the middle of ongoing board examinations of Board of School Education, Haryana, of Class X and XII, the schools have been shut and some exams are still pending.
Ambala district education officer (DEO) Suresh Kumar told, "It is good that such an initiative has been taken by a private school to engage the students in studies during these times. This will divert their mind from the situations outside and they will remain busy at home."
When asked about such arrangements in government schools, DEO Suresh said, "Presently, all the schools are closed as per government orders. The lockdown due to coronavirus took place in the middle of Haryana board examinations and some examinations of Class X and XII are pending. Presently, there are no new sessions of Class X and XII ongoing as the results from lower classes are still awaited. We are still in process of assessments and this has been affected due to lockdown. Only the directorate of school education, Haryana can take a decision in this regard, which will be then implemented at the state level."
As of now, no government school has started any online classes like the private ones have. The private schools are affiliated to CBSE pattern and they have declared results online of the non-board classes told DEO Suresh.